Description
As a consumer advocate, I have covered a lot of different 'what not to buy' lists!
Perhaps one of the most popular of these lists have been the ones that are all about Walmart.
Walmart is a great place to get deals on everything from groceries to tech, but it isn't the perfect spot for everything.
1. TV
This is a bit controversial, and I always get comments when I add TV's to the 'Do Not Buy' list at Walmart; but trust me!
Sure, Walmart can have great deals on some TVs, but you'll notice that the brands you get as a deal at Walmart are not exactly 'high-end'. In addition to that, if you are looking for a TV that isn't a major name like Samsung, LG, etc. you'll typically get a better deal at Best Buy unless it's Black Friday.
On a standard, mid-range TV (for example, a 75″ TCL TV), Amazon and Walmart are very close when it comes to pricing. There is one major difference though; at Walmart, you'll have to pay $49.99 to ship the TV to your home. Sure, you can get free in store pickup, but I'm sure I'm not the only one who can't fit a 75″ TV in their car! On the other hand, I can buy the same TV for the same price on Amazon with FREE scheduled delivery!
2. Photo Prints
Walmart does offer competitive pricing on photo prints, however, when you compare their prices side by side to Shutterfly, you'll notice that Shutterfly is much more aggressive when it comes to sales and promotions.
In addition to more sales and lower prices, Shutterfly also offers same-day in store pickup at a variety of locations like Target, Walgreens and more, so it is just as convenient, if not even more convenient than a photo plan at Walmart.
3. Bedding
In a recent study, Market Watch reported that while Walmart had some amazing deals on bedding, the quality was less than great.
My recommendation would be to check out a department store in your area, they often have great selections on high quality bedding.
Keep in mind when shopping at Walmart (and Amazon) for bedding that they have a lot of their own in-house brands. This makes it tough to compare apples to apples between different stores, but often times, the great prices aren't great brands.
4. Pet Food
Purchasing one small bag of pet food at Walmart when you're in a pinch won't cost you a lot extra. However, if you're willing to use a subscription on Amazon for your pet food, you're likely to save up to 20% on the cost of your pet food.
5. Jewelry
Sure, the prices are unbelievable, but the quality correlates with those prices… In fact, some sources have even released entire articles outlining the problems with Walmart's jewelry, in fact, they were even pleading the public to NOT buy jewelry from Walmart.
In my personal experience, I would recommend bluenile.com, you'll notice they have a lot of sales and great prices all the time. Plus the quality is something I'm proud to give to my significant other.
6. Diapers
Just like pet food, Walmart isn't a bad place to get a pack of diapers when you're desperate. However, over time, you'll save up to 20% by participating in a subscribe and save on Amazon.
7. Batteries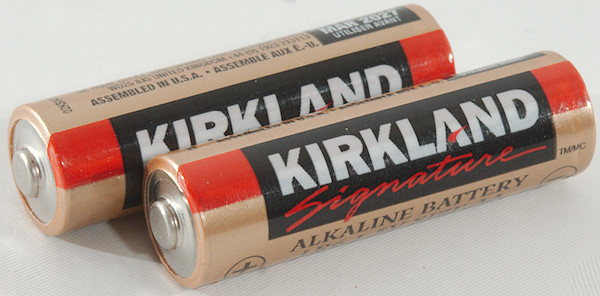 I've had this item on the list before, trust me on this one! In a lengthy study, Costco's Kirkland brand batteries held up as the best quality for the best price.
If you're not able to get to a Costco, the Amazon brand batteries are also incredibly affordable and have a great life. Either choice is a way better option than picking up a pack at Walmart.
8. Furniture
You'll notice some pretty enticing deals on furniture from Walmart. However, if you compare things side by side, you'll notice you'll find that Value City Furniture offers similar prices but you won't necessary get the same level of quality.
Sites like Wayfair and Overstock tend to have higher quality pieces with regular promotions to help you save. Amazon also carries some less known brands that have awesome value for cost!
If you'd prefer to shop in person, Ashley Furniture offers a wide selection of reliably high quality goods.
9. Protective Items
This ranges from face masks to thermometers, and it is especially important in today's world.
If you search for these items on Walmart.com right now, you'll notice a huge variety of choices at different price points.
Unfortunately, most of the items you see are not actually fulfilled by Walmart. They are listed on the Walmart website, but most are brands you've never heard of, with no reviews, and shipping from who knows where.
Instead of risking it, check out my deals page for my protective item picks from reliable and legitimate retailers.
10. Fish & Meat*
To be honest, this is not something I normally add to the list. I personally haven't had negative experiences with fish or meat from Walmart.
That being said, my YouTube followers had A LOT to say when I covered this topic previously. I heard about some of your horror stories when it comes to Walmart groceries so I am adding it here.
Hopefully you found this list useful and you'll keep it in mind on your next Walmart shopping spree.
If you'd like to read my last 'What Not to Buy at Walmart' list or the rest of my blogs, you can do so here. As I mentioned above, I also have a deals page where I post my favorite deals on my favorite products from my favorite retailers, check it out!
While you're here, don't forget to join the email list and be the first to know whenever I have something to share!
Save More on the hottest Items!
You will be notified before the general public if prices drop or a huge sale is happening at basement prices on electronics, kitchen products, clothing, tech, personal items and more. My job as a journalist is to find the best sales and save you money.